Printable Shoe Size Charts
Getting shoe sizes right can sometimes be difficult especially when the store sells shoes in a number of measurements.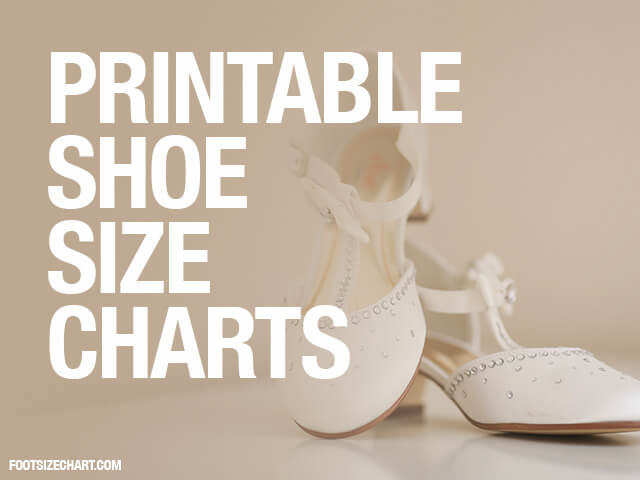 A printable shoe size chart will make it easier for you to decide what the best size of shoe is for you and avoid the embarrassment and annoyance of buying the wrong size of shoes.
These charts serve as a helpful reference especially for those who prefer to shop online.
It could be that you know your shoe size but you are buying for your child whose feet is ever growing every month; this chart will help you to measure shoe sizes from home.
A lot of shoe stores usually have their own foot-measuring equipment but some do not. In order not to be at a loss, having a printable shoe size chart is a good idea.
PDF for print
How to Measure Your Feet Correctly
Print out the Template for Foot Measure
When printing this template ensure that you do not scale the print and the printer is set at 100%.
Double check this by comparing the centimeter guide down the side of the foot measure template with the aid of a ruler so that you are certain that they match.
Measure Your Feet Carefully
It is a good idea to measure both feet on a flat surface and ensure that you place your heel correctly.
The measurement of the bigger foot should be used. Also, remember to wear the type of socks that you would wear with the shoe you intend to buy.
Measure from the Right Hand Side for Your Shoe Size
Doing this will give you an approximate shoe size based on the length in centimeters; this will enable you to buy the correct size of shoe.
If you want to convert this from centimeters to US, UK, or Euro sizes you can refer to the shoe size conversion chart.
US Sizing System
Majority of Americans are very familiar with this system of sizing, this is an overview just in case.
Women's sizes in the US range from 4 to 12 inches while the men's sizes range from 6 to 16 inches.
Generally, men's sizes tend to fit more than that of women which sometimes run somewhat narrower.
The children and youth sizing system in the US is different from the adult shoe sizing system.
For a shoe to be accepted as a medical shoe it has to come in a number of widths. This is the reason US sizing system shoes are more likely to come in such widths as extra wide, wide, medium, and narrow.
EU Shoe Sizing System
Unlike the US sizing system, the European sizing system for adults and children are the same.
The European sizing system ranges from small shoe sizes to large shoe sizes. This system is unisex so a woman who wears size 40 would most likely be comfortable in a man's shoe.
The main distinguishing factor in this sizing system is the detail on the shoe upper which would reveal the gender.