Shoe Size Conversion
The foot is three dimensional and any two-dimensional measuring tool such as a Brannock device or a ruler can only approximate the true size of a shoe.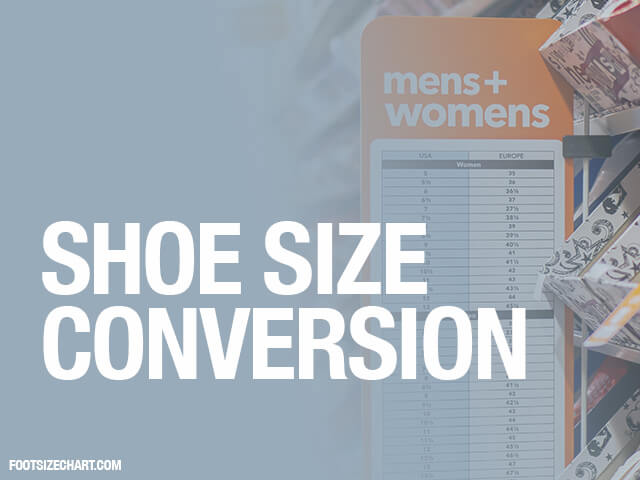 Manufacturers use different materials to make their shoes so keep this in mind as sizing may vary from brand to brand.
Baby shoes by age are very different between the brands and shoe type.
The following charts will help you to convert the measurement of your feet in inches or centimeters to US, UK, and EU sizes.
The Theory and Practice of Shoe Size Charts
The shoe sizing system is based on the Brannock system, Mondopoint, the German standard DIN, the Spanish standard UNE, and the International Standard Organization ISO.
It is important to note that there are marked differences between shoe sizes of different brands. A lot of shoe manufacturers do not comply with these standards when making their shoes.
Apart from this, many machines are unable to produce these shoes accurately so it is likely that the same size as a shoe model may sometimes differ.
The UK and Euro Shoe Size Conversion Chart
The English shoe size is not uniform; also the US and UK sizes are clearly different from one another.
The shoe size table allows you to convert from the US size or Euro size into a UK size or however the case may be.
In time past some European countries like Germany, France, and Italy had their own shoe size and these shoe sizes were very different from each other.
Today, there is uniformity in the shoe sizing system with the adoption of Euro sizes.
US Shoe Size Conversion
Majority of the international size charts are based on the Brannock system. It is used for both men and women sizes in America, Canada, New Zealand, and Australia.
The system was invented by Charles F. Brannock in the 1920s and it can be applied to different types of footwear ranging from sneakers, boots, running shoes, sandals, or loafers.
The basis of this system is the foot length and the addition of two Barleycorns to the shoe number.
This system has different calculation formulas for men, women, and children shoe size.
Each of this group has their own unique zero points. A lot of other systems do not take gender into account.
UK Shoe Size Conversion
The Barleycorn system is employed in the UK sizing system. The smallest number on this system is 0 and the scale starts at 12. The scale moves to adult size 1 when it gets to 13.
There are two formulas available in this system; one is used for calculating adult sizes while the other is used for children.
The UK sizing system is different from the US and the Euro sizing system.
How to Convert Men's Shoe Size to Women's
Converting women's shoe size to women's in the US sizing system is quite simple, all you need to do is to just subtract 2 figures from the US women's shoe size to get the men's shoe size and vice versa. The difference is usually 1.5 for sneakers.
Virtually everybody knows their shoe size but it is not everybody that knows their shoe width even though there might be huge variations here.
There is not a uniform standard when it comes to width, you would have to refer to the manufacturer's website for more information.